How Can We Help?
Search for answers or browse our knowledge base.
Purpose 
This article will cover the different objects and menus within the Aparavi platform.
Navigating the Aparavi Platform 
Logging into the Aparavi platform initially will present you with the Dashboard view. There are three distinct areas within the Aparavi Platform, they are the:
– Menu Bar
– Object Tree
– Current View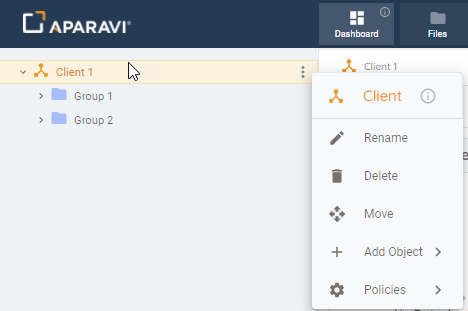 The Menu bar has current user Profile and Support and Logout options in the upper right corner. There are also five distinct options on the Menu bar, they are:
– Dashboard
– Files
– Policies
– Administration
– Reports

Selecting a different menu options will change the current view pane to reflect your choice. The current view is not only dependent on the menu option selected but also by the object current selected in the tree. For more guidance on each menu option, refer to their specific sections at support.aparavi.com.
The Object tree will be unique to each environment and will grow as you continue to add objects to your Aparavi deployment. At the top client level, you can view your administration options by clicking on the three vertical dots to the right of the client or right-clicking on the object itself.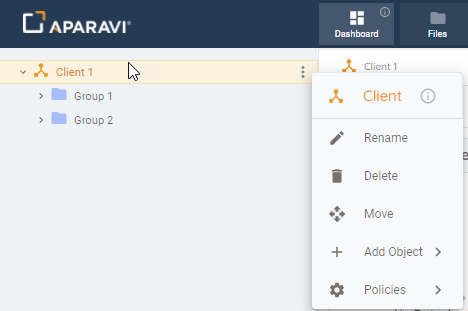 Moving down to Add Object or Policies will open an additional menu. Adding an object will change the object tree. Depending on what current object is selected in the tree, the menu options will change to reflect the options for the current object. Depending on the object currently selected in the tree, the objects you can add will also change. In general, there are many objects that can be added to the tree, these are shown in the following table.
| | |
| --- | --- |
| Object Type | Icon |
| New Client | |
| Group | |
| Aggregator | |
| Aggregator Group | |
| Aggregator-Collector | |
| Collector | |
Object Types
Some sub-objects will require additional configuration or additional installation packages. Refer to the Installation section of support.aparavi.com for guidance on any objects that require installation packages.