How Can We Help?
Search for answers or browse our knowledge base.
Credentials Administration
Purpose
Username and password credentials for an account with read/write access to the source data to be scanned are shown here.
Usage
To access Credentials, click Policies from the ribbon menu, then click the credentials tab just below.
On initial view, any credentials set by the root organization are grayed out because policies are inherited from the root organization. To change or add credentials, clear the "Inherited from Organizations" checkbox shown in the upper right corner of the Credentials page. Remember to click 'Save All Changes' button shown at the lower left to apply any changes.

For cases where only local storage needs to be scanned, no credential entries are required.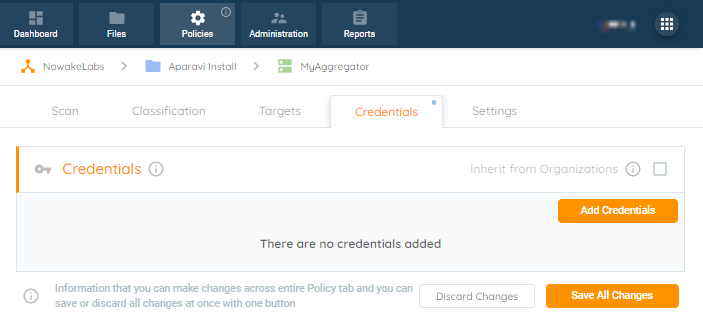 With the Inherit from Organizations check cleared, new credentials may be added by clicking the Add Credentials button.

When clicking the Add Credentials button, a form is shown to enter settings for the added credential.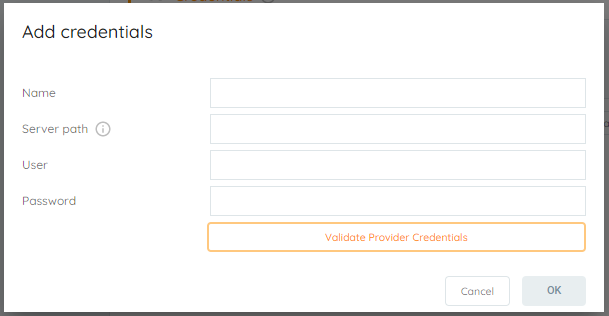 At this point you can fill in the required information

Name – the name to use when referring to this added credential and its settings
Server Path – the path to use to connect to this data source. This may be specified as an IP address, DNS name or Samba path, such as smb://myservername/myshare
User – the username required to access this resource
Password – the password required to access this resource
Validate Provider Credentials – clicking this will check the syntax of entered fields
If satisfied with the values entered, click OK to accept or Cancel to take no action.
Remember to click "Save All Settings' when done to make any changes permanent.